When I picked up the phone to confirm Miss Jackie for our event, I heard someone say "
What's Pimpin'?
" ... My crazy behind was thrown
wayyy
off track and I asked for Jackie. To which the response was: "
Ohhh I'm sorry, I thought you were my nephew - I was trying to act young!
" That's when I knew she was a perfect match.
Glamour
magazine featured our feisty gal
Jackie Saulsbery
in their August 2009 issue. Who's Jackie? Miss Jackie is the hot mama who was a godsend (or rather a
Zoya
send) to the Bloggin' Beauts for the July event. :)
We all got spoiled with 3free manis from
Zoya
and we got to know Miss Jackie. What did we learn? She sure has professionalism down pat! No matter how much we all poked an prodded she would not give up a single name of a client who was... well... unpleasant. You know what? Judging by her you'd think such people didn't exist!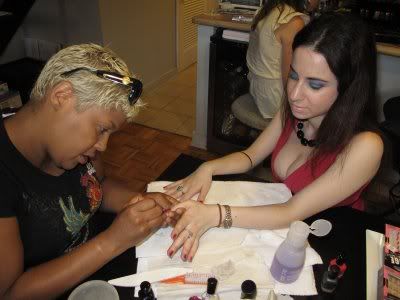 There's Jackie perfecting
Adina
's (from
KraseyBeauty
) mani!
I can spot the

Zoya

3-in-1 formula Remove - can you?
Check the mag or click on the image and squint at the page to see Jackie's tips to keep your tips healthy and spiffy!