For another installment of Company Spotlight, today we have
Pencil Me In Cosmetics
. I first came across this company at the NY Makeup Show 2009. The liners are all natural so they're crazy good for your skin, and the colors come in such a variety, that a Crayola box may get jeal0us. And they're only $6.99 each! (
Click here to purchase
).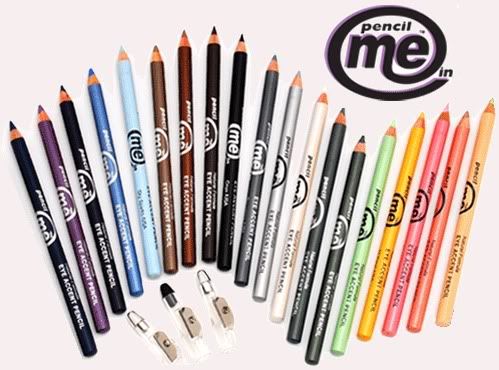 Check out some info from the site:
"My name is Linda Eisner and it is with pleasure that I introduce to you my creation "pencil me in" – a unique line of eye liner pencils. After working for over twenty years in the cosmetics industry, personalizing private label lines for several major companies, I decided to launch "pencil me in" eye accent pencils for you. These innovative cosmetic pencils provide long lasting consistent color. All 30 shades were custom created to boost ever-changing styles. The shades range from toasty browns and smoky greys to vivid purple to frosted shades of blue and green to metallic bronze to subtle glitter. There are sensational choices for people of all races, genders and skin tones. Application is silky smooth without pulling the delicate skin around your eyes. For your convenience, I also included a free a pencil sharpener built into every cap.

My extensive experience in color cosmetics and skin care enabled me to develop this exclusive formula. The finest natural ingredients are included to appeal to retailers and consumers searching for premium natural products at a reasonable price. Anti-oxidants and vitamins have been included to help to protect the eye area from daily exposure to destructive elements. "pencil me in" eye accent pencils is the newest "green" cosmetic!

Antioxidants are vitamins, minerals and enzymes that help protect the body from the formation of free radicals. Free radicals are highly destructive chemicals that damage cells and contribute to many diseases. Antioxidants deactivate free radicals. Many scientists believe that free radical damage is a major factor in the aging process. By absorbing anti-oxidants and supplements into the body, damage caused by free radicals can be minimized. Clinical data has revealed that vitamins and anti-oxidants added to cosmetic products that are used in the eye area like "pencil me in" eye accent pencils help to keep the delicate tissue around the eye area soft and smooth.

"Pencil me in" cosmetics has added natural ingredients and blended botanicals like Green Tea Leaf Extract, Pine Bark Extract, Grape Seed Extract, Lecithin, Shea Butter, Cacao Butter, Jojoba Oil, Wheat germ oil, and Safflower seed oil. It also includes Vitamins A (Retinyl Palmitate), B2 (Riboflavin), B3 (Niacin), C (Ascorbic Acid), Vitamin D and Vitamin E (Tocopherol). For complete ingredient listing click here

Notation: The formula does contain beeswax."
Also,
click here for looks and tips
from
Pencil Me In Cosmetics
.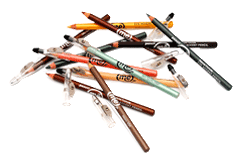 Want to know what the Bloggin' Beauts think about it? One of our Bloggin' Beauts
Jes
reviewed this product, even before the get together! Check out the video
here
(it starts at 7:20).
Have you ever tried

Pencil Me In

?